Imitating Nature
Jules Stevens' bamboo sculptures break the mold

by Starr Begley (Photos by Capt. Pat), December 27, 2007
---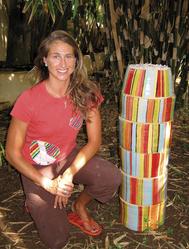 I've dabbled in ceramics for about 15 years. And by dabbled I mean sculpted naked people, because naked's what I tend to do best. I've also tried my hand in rolling slabs, which I couldn't get into because it was too tedious.
Also, I harbor secret fantasies about Demi Moore in Ghost. I can't quite figure out if it's Moore or The Swaze that I'm attracted to, or which crush would be more disturbing. Regardless, my experience on the potter's wheel nearly ended in disaster when the wheel came flying off and nearly struck my very pregnant ceramics teacher.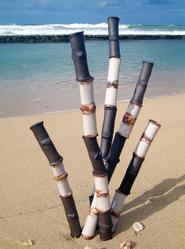 The last time I sunk my hands into a wet mound of clay was about a year ago. It was disappointing—it all felt so rigid and limited. I felt that my love affair with the medium was absolutely over.
But last weekend, as I was wandering around Kahului Airport, I came across a ceramics exhibit by Maui artist Jules Stevens. I wasn't expecting to react like I did. My first impression was, "Eh. Clay." Then I actually looked at it closely and felt the telltale tingle in my body that signifies seeing something that inspires me. I fell head over heels in love with clay all over again
With her bamboo collection, Stevens has taken ceramics in a totally different direction. "I've worked with clay for about 20 years," she said. "One of the things that I've had to deal with is its limitations. I've found a lot of limitations that I've had to come up with solutions for."
Size and rigidity bothered Stevens. "If I wanted to do something big I'd have to get a huge kiln or do it in bronze so that it wouldn't crack," she said. "So then I decided that maybe I would work in sections and then stack the sections on top of one another to create height."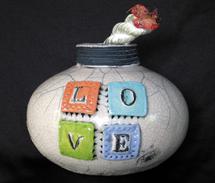 While working on a project of this type, she spent time in a friend's garden that was loaded with all different types of bamboo. She decided to start experimenting with the look of bamboo as it is in nature.
The clinch was that bamboo is fluid and sways with the wind. So she found a piece of bamboo, made a mold and then hand-built a clay bamboo segment. She then stacked the segments onto one another until she had a stalk that was life size.
"Once I solved the problem of how to be able to build the actual bamboo, I had to figure out what to use to stack them on," she said. "I ended up using rebar and a concrete base."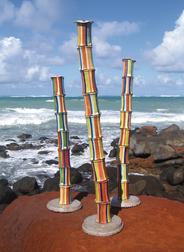 It wasn't long before she realized that what she was currently doing had strayed from simple ceramics and was now more of an industrial art. "I'd pour the concrete base and then tint and sand it," Stevens said. "At first I was using a hacksaw to cut through the rebar and it would take forever. Then my boyfriend introduced me to this tool that cuts through it like butter."
The result is stunning; the bamboo sculptures she creates are large and actually move in the wind. One is installed at the Hui No Eau Visual Art Center and others are making their way onto the properties of private collectors.
"People can choose whether to have them standing on their base or I can install them right into the ground," she said. "It's kind of cool that way. It looks like they're growing."